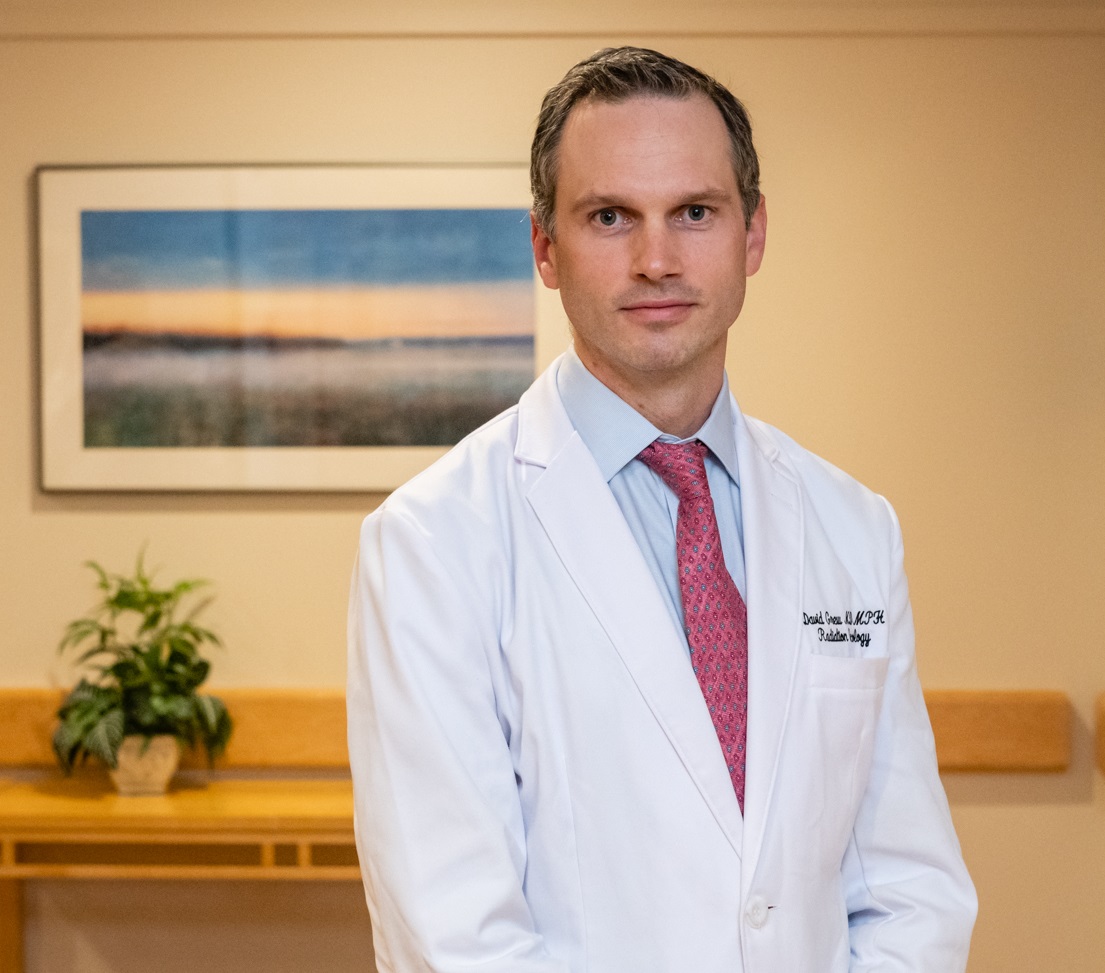 Office Locations: Hartford, Enfield
Dr. David Grew is originally from West Hartford, CT. He attended Northwest Catholic HS where he met his wife. Dr. Grew performed his undergraduate studies at Fordham University in Bronx, NY, earning a BS in Biological Sciences and Ecology.
After college, he pursued an MPH from Tulane School of Public Health and Tropical Medicine. While there, he worked with the New Orleans Health Department to study the mid-term effects of Hurricane Katrina on New Orleans' health systems. He presented this work at national scientific meetings and published in peer-reviewed journals, which resulted in numerous federal grants flowing to the City of New Orleans to aid in the recovery effort. He attended Tulane School of Medicine where he earned his MD. At Tulane, Dr. Grew was awarded the Jack Aron MD/MPH scholarship and the Gold Humanism in Medicine Award. He did his residency training in Radiation Oncology at NYU School of Medicine where he served as chief resident and was awarded Resident of the Year in 2015. During residency, he performed research on a range of cancers, including lung, head and neck, gastrointestinal, breast and prostate cancer, as well as disaster preparedness and management in Radiation Oncology. He presented his work at numerous international scientific meetings and published in peer-reviewed journals.
Dr. Grew practices both at Johnson Memorial Cancer Center in Enfield, CT as well as St Francis Hospital in Hartford, CT. In 2019 he began serving as Co-Chair of the Cancer Committee at St Francis. He continues to perform research in radiation oncology and present his work both at regional and national meetings on a variety of topics including Cyberknife stereotactic radiation for prostate, liver and pancreatic tumors. His philosophy of medicine includes teaching his patients about their disease and laying out his plan to address their cancer problem. Dr. Grew enjoys the journey of establishing a personal connection with each individual patient.
Areas of Expertise:
Breast Cancer
Lung Cancer
Head and Neck Cancers
Lymphoma
Liver Cancer
Prostate Cancer
Cervix Cancer
Intensity Modulated Radiation Therapy (IMRT)
Image Guided Radiation Therapy (IGRT)
CyberKnife Stereotactic Radiation
Outside of work, Dr. Grew enjoys spending time with his wife and 4 daughters. Together, they are avid skiers, bikers and boaters.